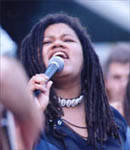 Amikaeyla Proudfoot Gaston, a Washingtonian, is a graduate of Wesleyan University. Her musical career began at age four, studying classical piano, flute and vocals for over 20 years. As a trained vocalist, her musical techniques include classical choral opera, a cappella madrigals, jazz, blues, rock, funk, and international styles from West Africa and South India.
She has performed at the Kennedy Center and with the Lisner Symphony; Yasmeen from Sweet Honey in the Rock; the Gaston Jazz Quartet; Dahjay West African Pop Band; Imani A Cappella; Kiva Madrigalia Sextet; Bloodroot A Cappella Duo; Fire & Earth Folk and American Folklore troupe; Caravan, South Indian Healing Music Ensemble; and Rhythm Alive Dance and Drum Assembly. Other performances include off-Broadway productions of Jesus Christ Superstar, as Mary Magdalene, and Lady Sings the Blues as Billie Holliday.
She founded Amethyst & Indigo, National Womyn of Color Foundation for Cultural Exploration, Retention and Healing through the Arts, Education and Outreach, Inc., and is a N.D., Ph.D. candidate at Westbrook Univeristy in Aztec, New Mexico and Berne University in St. Kitts, West Indies.