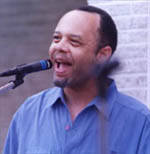 Bottomland's founder and band leader - Matt Jones - started playing piano in public for modern dance in 1980 while pursuing a BA in Theater at Temple University in Philadelphia. While taking an introductory modern class, he became aware of how the accompanist's efforts could almost levitate the dancers on a cushion of music. Already a self-taught pianist of burgeoning confidence, he resolved to try his hands at it and has simply never stopped. Matt has been accompanying modern dance classes around the Washington area since his arrival in 1982.
He has since added ethnic percussion and guitar to his instrumental tool box, and -- if pressed -- will reluctantly admit he can sing. As a musician and composer Matt has performed original works throughout the metropolitan area with a wide variety of choreographers, dance companies, and music groups. These include numerous live performances with Sandra Kammann's Sisters of One Eye dance/theater group; D.C. Contemporary Dance Theater's use of his compositions in performance at the Kennedy Center Terrace Theater in 1989; a brief incarceration at Cafe Lautrec in Adams Morgan with the Matt Jones Trio; with Dahjay: a 13-piece West African band; and now with Bottomland: his exciting new World Rhythm and Soul ensemble that offers rhythmic original and popular music to Metropolitan Washington audiences.
Matt works as a Space Technology Policy analyst, lives in the jungles of Arlington, Virginia, and sports a goatee.
"Matt is a powerful, passionate, and sensitive composer and performer. He has devoted many years to work with dancers, choreographers and the women's community and has the following and the technique to prove it. His ear is unique and true and he has a fine, interpretive touch. Matt is a collaborator's wish come true." -Amy White