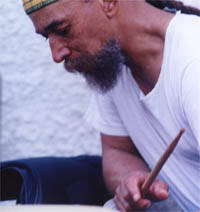 Saleem Wayne Waters is a composer, arranger and multi-instrumentalist musician who plays marimba, wind synthesizer and African/Brazilian percussion. He blends a mixture of jazzz, Caribbean, world beat, spiritual, blues, classical and new age music to create a variety of universal, relaxing and provocative sounds.Saleem has composed soundtracks for three documentaires, and developed musical workshops for Washington metropolitan area public and private schools.
He has travelled internationally and performed in South America, Europe and the Caribbean. In addition to his appearances with Bottomland, he is currently working on a soundtrack for a community development and design video; and he is exploring the healing properties of sound.
Future projects include research in computer-based sound design. His soon-to-be-released debut recording is entitled Mystical Waters.