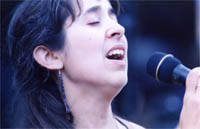 Wendy first started playing a wind instrument in 4th grade, when her mom got her a sopranino (that's really small) recorder after she was eyeing her sister's new soprano with great envy. After a high school era filled with way too many competitions and nerve-wracking flute recitals, she spent a heavenly year at Oberlin Conservatory re-working her embouchure and doing lots of mime during Winter Term.
She had to leave Oberlin because her parents couldn't afford it, and she eventually graduated from UMass/Amherst with a self-designed major in Artistic Creativity Studies. After various adventures living in Boston and playing on the streets of Europe (and being included as a "cute French girl playing flute in front of the Louvre" on many a Japanese home video), she lived in Washington, D.C. long enough to do a show at Arena Stage with her future husband, the multi-talented Ritchie Porter. But, called by the sea, she moved to Provincetown, Massachusetts for a couple of years (where she had numerous interesting experiences, like being a sax & keys-playin' member of the Fabulous Dyketones and being in wacky plays with a bunch of talented, affectionate queens, I love you Ryan Landry & Co.) before finally tying the knot and moving back to Washington.
Once back in D.C., she produced her own solo recording, I Like It Here, and was a member of a couple of folk-rock-type groups (Wonderground and Turnabout) before finding her ultimate tri-syllabic group, Bottomland. As of now, her tri-syllabic three-year-old Nicholas is the clearest bolt of pure joy she has ever witnessed.